Ohana is a deep community of people who celebrate God and one another. In Ohana there is a seat at the table for everyone. In Ohana we discover what it means to be the best version of our true selves.

'Ohanitas' living Ohana together
1st and 3rd weekends
Connect to our church by joining one of our 'Ohanitas' 'Ohanitas' are smaller Ohana's that are designed for everyone! In 'Ohanitas' you will find a way to live out Ohana. In Ohanita's we value loving God and loving each other. In an 'Ohanita' the agenda is simple: Potluck, Play and Prayer.
Join us on the 1st and 3rd Weekends
Saturdays 5:00-6:30 pm
Sundays after church 12:00-1:30 pm
Reforming Communities
In the next 10 years everyone who calls NLC their home will be engaged in deep relational community that produces spiritual maturity. Every person will be equipped, trained and connected to God and each other in such a deep way that 'Ohanitas' will be thriving throughout our geographic region. The result will be the natural transfusion of healthy spirituality to reform communities. Everyone will have the tools, passion and desire to recreate Ohana wherever they go the rest of their lives.
S.O.A.P GROUPS...Go Deeper
Meet with other like-minded people, read the Bible, encourage one another and pray

"And let us consider how we may spur one another on toward love and good deeds, 25 not giving up meeting together, as some are in the habit of doing, but encouraging one another." Hebrews 10:24-25
WOMEN'S FLOURSH SPIRITUAL COACHING GROUP
Bi Monthly on Tuesday evenings. The bible study book costs $20.00 and is a year long daily devotion that offers scripture and reflection on the topics of:
The Word, Prayer, Identity, Calling, Family & Gratitude

The book provides short 10-15 minute reflections 5 days a week and focuses on passages of Scripture around a topic. Women meet up to share and encourage one another from our weekly reflection and devotion time and coach each other toward greater spiritual growth and formation.

6:30 pm to 8:00 pm
Meet up with Pastor Fernando and his bible bro's on Saturday Mornings for a time of reading the Word together and Praying for each other.
Classes...Grow deep roots
Groups and Classes give extra attention to applying God's word in specific areas of our lives.
Our Roots Class is designed for those who want to learn more about our Church or learn about basic Christian doctrine. This is a great class for new believers or for those who are new to our church.
Water Baptism is the first step in obedience to Jesus. We offer water baptisms on a quarterly basis. Our water baptism class will help you understand the importance and spiritual dynamics of baptism.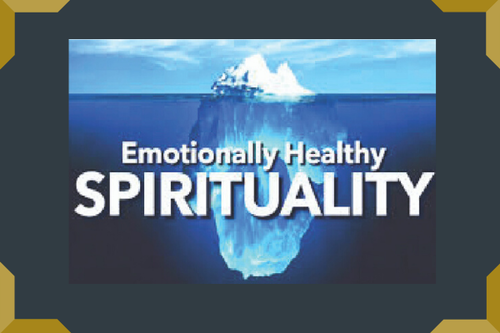 The Emotionally Healthy Discipleship Courses will explore biblical themes of healthy living that will help you to become deeply changed by Jesus and have a powerful long-term impact on the world around you.
Spiritual Formation Coaching
Spiritual Formation is a bi monthly coaching group that meets together to discover more fully and effectively how to engage in spiritual transformation and increased intimacy with the Holy Spirit.
Gain breakthrough clarity! The Younique Experience releases the power of the identity God created in you. Imagine that you didn't just know how to navigate your next step in life but every step in life with the compass of your unique calling.


Financial Peace University
Financial Peace University by Dave Ramsey is a 9-week course discussing money management, debt freedom, spending, and saving wisely
Recovering from Losses in life
Recovering from Losses in Life. This class offers encouragement and help after the loss of a loved one or any other significant loss in your life. You don't have to go through the grieving process alone.
Pure Desire and The Conquer Series. A class for men that teaches biblical strategies to experience freedom from
sexual sin.
Contact Us to find out about when our classes are being offered